Catch a Cup of Soil. . . ..

and keep it from the river's flow. Albe and Marle see much of our precious soil washing off the land and muddying our rivers.

When we clear a piece of land to build a house or plant a garden, soil that was once covered becomes exposed. Each time it rains, soil can erode into ditches and streams.

Muddied waters choke out sunlight and prevent aquatic plants from growing. That means fewer baby fish will survive and fewer fish in our streams.

You can catch a cup of soil by following some simple suggestions.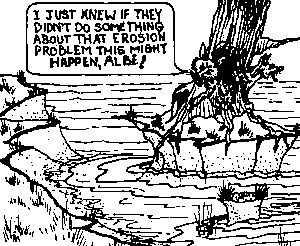 Caretaker's Checklist


Check your ditch for muddy water after a hard rain, then try to find the source of the mud. You and your neighbors can prevent erosion by planting trees, shrubs or ground cover and seeding bare spots in your lawn.
Install a silt fence if you are disturbing ground near any body of water, even a ditch. Mulch or seed the disturbed area immediately after work is completed.
Leave natural vegetation undisturbed wherever possible, especially near ditches and streams. A wide buffer of plants allows rainwater to filter slowly into the ground, instead of running off.
Grade your property to eliminate steep slopes and decrease runoff.
Use gravel, crushed rock, or other permeable paving on driveways and paths to allow rainwater to soak into the ground instead of flowing into ditches or streams.
Channel rainwater from your rooftop into areas where it can filter slowly through soil, or save it for watering your garden.
---

Natural vegetation along stream banks is our best ally against erosion. Tree roots hold soil in place and as an added bonus overhanging tree branches help to keep streams cool